Who Is a Corporation Supposed to Serve?
New theories suggest maximizing shareholder value isn't the be-all.
by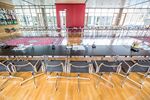 The shareholders are the owners of a publicly traded corporation, and it is the job of the directors to look out for their interests. To many investors, financial journalists, corporate executives and even board members, these are self-evident truths.