What's Wrong With Political Dynasties
Outside the U.S., dynastic politicians haven't been doing too well.
by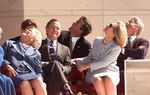 Now that the U.S. officially has a Bush as well as a Clinton in the presidential race -- candidates who might ultimately square off against each other -- the question arises whether dynastic government would be fitting for the world's most powerful democracy. The experience of other democratic countries isn't encouraging. In those with strong political dynasties, the current generation has been doing worse than previous ones.