Mystery Meat Knows No Borders
The complicated history of country-of-origin requirements.
by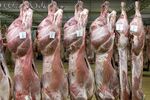 Last week, the House of Representatives voted to repeal a law requiring pork, chicken and beef from Canada and Mexico to have so-called country-of-origin labels. The two U.S. neighbors recently won World Trade Organization rulings that the labeling was a form of discrimination.