How the U.S. Tracked Down Al-Qaeda's Yemen Chief
No spies on the ground, no friendly government, no problem.
by and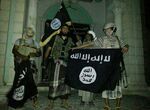 The Central Intelligence Agency was able to do something last weekend many suspected it could not: locate and kill the leader of al-Qaeda's Yemen franchise, Nasir al-Wuhayshi.
The agency did it, according to U.S. officials familiar with the events, with no official presence in Yemen and no partnership with the country's intelligence service or military. Houthi rebels overran Yemen's capital in February, toppling the friendly government of  Abdurabuh Mansur Hadi and forcing the U.S. to close its embassy and CIA station. In March, the U.S. pulled out most of its special operations forces.
At that point, many experts said the U.S. fight against al-Qaeda there was effectively over. But the U.S. government still had satellites and drones to monitor the terrorists and eavesdrop on communications they were careless enough not to encrypt.
U.S. officials knowledgeable about the intelligence gathering that led to the strike tell us that the U.S. was able to continue to monitor Wuhayshi's network without spies on the ground and with no Yemeni counter-terrorism cooperation. Over time, the CIA zeroed in on his location by building a methodical case on his whereabouts over months from information collected through technical means. One U.S. intelligence official said this was the result of "time on target" and the "in-depth expertise" gleaned from years of studying al-Qaeda and its networks.
Adam Schiff, the ranking Democrat on the House Intelligence Committee, told us, "For better or worse, we now have a lot of experience operating in non-permissive environments like Yemen." Despite a reduction of human personnel on the ground, the U.S. intelligence community still has a lot of assets it can use in the fight. "We still have eyes on our target and that means that these al-Qaeda leaders should know they cannot operate with impunity," he said.
Wuhayshi's death is no small matter. He was not only the leader of what is widely considered al-Qaeda's most deadly franchise, but he was promoted in 2013 to the equivalent of al-Qaeda's general manager, responsible for external operations for all of the group's affiliates.
Dianne Feinstein, vice-chairwoman of the Senate Select Committee on Intelligence, told us Tuesday that she was told Wuhayshi was killed by a U.S. drone strike over the weekend. This information was confirmed later Tuesday in a communique from al-Qaeda's Yemen franchise. Feinstein said that contrary to what many had suspected, U.S. intelligence about al-Qaeda in the Arabian Peninsula has actually improved in recent months despite the Houthi gains. "I think the intelligence is a lot better there now," she said. 
There is an irony in all of this. In 2014, when the CIA still operated a station in the capital of Sana'a and the U.S. cooperated closely with the Hadi government, Wuhayshi was so confident he couldn't be touched that he got cocky. At the end of March 2014, his group released a video of Wuhayshi meeting with about 100 followers out in the open and boasting about the need to take on the crusaders. The Long War Journal, a website that monitors the U.S. war on jihadist groups, reported that Wuhayshi said: "O brothers, the Crusader enemy is still shuffling his papers, so we must remember that we are always fighting the biggest enemy, the leaders of disbelief, and we have to overthrow those leaders, we have to remove the Cross, and the carrier of the Cross is America."
Seth Jones, the director of the international security and defense policy center at the Rand Corporation, told us Wuhayshi's death was significant. "He plays a very important role for al-Qaeda writ large, he was most likely to be a major contender for the head of al-Qaeda, if and when Ayman al-Zawahiri was killed," Jones said. "The U.S. has taken out a potential successor to Zawahiri." 
Wuhayshi was also one of the remaining al-Qaeda leaders with ties back to the group's founder, Osama bin Laden. In the late 1990s, he was a top lieutenant to bin Laden and was placed in charge of the Tarnak Farms training camp in Afghanistan. In his 2010 memoir, "Guarding bin Laden: My Life in al Qaeda," former bodyguard Nasir al-Bahri wrote that Wuhayshi traveled to Iran, but the Iranians eventually extradited him to Yemen. Wuhayshi was sent to a Yemeni prison and stayed there until 2006. Then, according to Gregory Johnsen's 2012 study of al-Qaeda, "The Last Refuge: Yemen, al Qaeda and America's War in Arabia," Wuhayshi was able to tunnel out of that prison and escape, forming what is known today as al-Qaeda in the Arabian Peninsula.
Wuhayshi's long run came to an end over the weekend, thanks to drones and the U.S. government's ability to remotely monitor al-Qaeda's network in Yemen from afar.   
This column does not necessarily reflect the opinion of Bloomberg View's editorial board or Bloomberg LP, its owners and investors.