Hank Greenberg's Chutzpah vs. Fed's Panic
The former AIG chief's legal victory is a win in name only.
by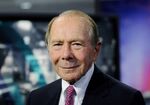 After seven years, the federal government has finally received its comeuppance. U.S. Judge Thomas C. Wheeler gave the Federal Reserve a severe tongue lashing, a tsk-tsking for the central bank's financial-crisis overreach.