Greece's Tremors Felt in Italy and Spain
Euro zone risks existential crisis amid contagion.
by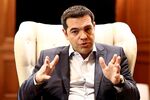 One reason European Union officials are allowing Greece to toddle dangerously close to the cliff top of exiting the euro is their oft-asserted belief that the situation is ring-fenced. A Greek default or departure from the single currency would be its own affair, the argument goes, without spillover effects. But that's turning out to be not quite as true as Europe's leaders would like to have us all believe.