Europe Asks the Impossible of Greece
No government can credibly commit to doing the politically impossible.
by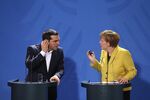 Suppose for a moment that the European Union gets what it's demanding from Greek Prime Minister Alexis Tsipras. It doesn't look as though that will happen, but let's imagine that Tsipras surrenders. How long, I'm wondering, would this smell like victory?