A Life or Death Choice for Egypt's New Pharaoh
If ex-president is executed, Muslim Brotherhood could revolt.
by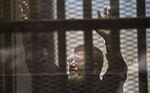 Deposed Egyptian President Mohamed Mursi has been sentenced to death on trumped up charges. Will he be executed? The most likely answer is that, under guidance from President Abdel-Fattah El-Sisi, an appeals court will commute the sentence to life in prison.