The Dead Lion of Tbilisi
Why do we need zoos in the middle of cities, anyway?
by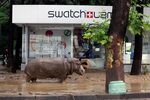 A crocodile swimming down a city street. A bear hugging an air conditioner outside a second-floor apartment window. A hippo loitering outside a Swatch store. Penguins drowned. And a young white lion dead from a police bullet to the head. Those are images from Tbilisi, the capital of the Republic of Georgia, where flash floods last weekend killed 12 people and devastated the local zoo.