Brazil Needs to Keep Its Top Cop
Attorney general faces opposition in Senate if he seeks re-election.
by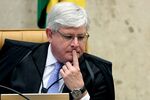 Last week, the Brazilian Senate got an earful. The man at the rostrum was Fernando Collor de Mello, the irascible former president, who made his name shaking a fist at political scoundrels and miscreants until he was fingered as one himself and run out of office after an impeachment trial.
To the uninitiated, the 13-minute tirade against Attorney General Rodrigo Janot -- whom Collor tarred as Brazil's top public enemy -- might almost have sounded like a public service message. But this was the Brazilian capital, where every j'accuse comes with an agenda, and Collor's was no exception.
Janot is not just the nation's top prosecutor but the chief investigator into the largest corruption scheme in Brazilian memory, at the state oil company, Petrobras.
He has indicted dozens of executives and bureaucrats in the "carwash" corruption case and, with the Supreme Court's imprimatur, recently added the names of 28 federal lawmakers to the docket -- including Collor.
This is where the story gets interesting. In September, Janot's assignment as attorney general expires, and while he has announced his intent to seek a new two-year mandate, a few sand traps lie in wait.
The first is the ultra-competitive election among his 1,000-plus fellow federal prosecutors, an ambitious and highly politicized group where rival candidates abound. Then, if he wins, there's the confirmation hearing in the Senate, which promises to be a hazing.
A total of 12 of the 81 Brazilian senators are on Janot's list of carwash suspects, topped by Senate President Renan Calheiros, of the Brazilian Democratic Movement Party.
Calheiros also is counting on backup from 22 lower chamber lawmakers on Janot's red list, starting with Congressional President Eduardo Cunha, who has labeled the prosecutor's probe against him as "irresponsible and imprudent."  Calheiros and Cunha are Rousseff's top congressional allies.
The job ultimately is President Dilma Rousseff's to fill, and she may reappoint or sack Janot as she pleases -- a fact that has not been lost on her scandal-pocked governing coalition.
In reality, she may have little choice. "Firing Janot now in the middle of a major investigation could be construed as political interference," said Joaquim Falcao, dean of the law school at the Getulio Vargas Foundation in Rio de Janeiro. "That could set off an institutional crisis."
That such constraints matter at all speaks to something new in Brazil, where outrage over public thieving is widespread but democratic institutions and corruption firewalls are still a work in progress.
Janot's strength dates back to the 1988 constitution, when lawmakers eager to purge two decades of dictatorship rewrote the rules for public prosecutors. Out went the button-down shock troops who kept the junta's discontents in line with lawsuits and gag orders.
Enter the "Ministerio Publico,"  the new state attorney's office, where prosecutors answered to the constitution instead of caudillos.
At the same time, a dedicated new generation of investigators emerged, and like Italy's "giudici ragazzini" -- the young magistrates who broke the mob in the 1970s -- they steered clear of partisan politics and were schooled in the minutiae of global money laundering and organized crime syndicates.
These skills have proved useful as Janot and his team of prosecutors build their case against the sophisticated pirates of Petrobras, who helped themselves to at least $2.1 billion in bribes and shunted the loot to shell companies in offshore havens.
Brazilians applauded, rating the prosecutors' office the nation's third-most prestigious institution, behind only the armed forces and the Catholic Church.
None of this makes Janot untouchable. Even if he wins re-election Aug. 5, Rousseff could still indulge her injured allies by naming a less-prickly attorney general. But in a country reeling from one huge scandal, that would look like one more.
To contact the author on this story:
Mac Margolis at mmargolis14@bloomberg.net
To contact the editor on this story:
Philip Gray at philipgray@bloomberg.net
Before it's here, it's on the Bloomberg Terminal.
LEARN MORE