Guy Who Manages $112 Billion Sees No Bond Buyers
When this guy says bad things might happen in bond land, you should listen.
by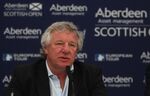 If you haven't realized by now that a lot of people are worried about bond-market liquidity, then I'm not sure why you're bothering to read me. (You're certainly not paying attention to my smarter and funnier colleague, Matt Levine.) But in the hope that you'll at least start taking an interest in where your pension fund is hanging out these days, maybe you'll listen when a guy who manages $112 billion tells you that if bad things happen in bond land, the fire doors might turn out to be locked.
Martin Gilbert runs Aberdeen Asset Management which, as previously mentioned, manages rather a lot of money. Here's what he told Bloomberg Television's Erik Schatzker and Olivia Sterns on Monday, explaining why he's lined up a $500 million overdraft facility and has a further $1 billion of cash:
It will get ugly. You want bank lines in place in case you have to meet a redemption and there is no market.
Let's pause for a second to parse that sentence. Gilbert (no relation) was talking about the risk of either Greece leaving the euro or the U.S. starting to raise borrowing costs. Either or both could spook investors, who in turn might ask Aberdeen for their money back.
Except Aberdeen is concerned it might not be able to sell the things it bought with their money -- so it would either have to deplete its cash to make the repayments, or borrow money to meet those redemptions. Setting aside a rainy day fund of $1.5 billion, just in case, is "a substantial amount but you've got to be prepared," Gilbert said.
With the benefit of hindsight, I decided a while ago that the starting gun for the credit crunch was fired on Aug. 9, 2007. That day, BNP Paribas told investors it was freezing redemptions from three of its investment funds because it had decided there was no reliable way to determine the value of the assets in the funds, which in turn would make it impossible to sell things to repay investors. In other words, to echo Aberdeen's Gilbert, there was no market.
Now, I'm not about to suggest that we're on the brink of another global financial meltdown. But when clever people are all saying the same thing about the bond market -- that it might turn out to be closed when investors most need it to be open -- I'm pretty sure I don't want to find out that my savings are locked up in a fossilized fixed-income market.
This column does not necessarily reflect the opinion of Bloomberg View's editorial board or Bloomberg LP, its owners and investors.
To contact the author on this story:
Mark Gilbert at magilbert@bloomberg.net
To contact the editor on this story:
Paula Dwyer at pdwyer11@bloomberg.net
Before it's here, it's on the Bloomberg Terminal.
LEARN MORE