Stand Back: China's Bubble Will Burst
Beijing may come to regret talking up equity ownership.
by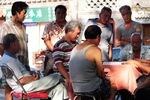 Singapore, which I'm visiting at the moment, opens your mind to the highly improbable. Rich, ethnically diverse, cheerfully efficient, globalized in the extreme, it's a man-made economic miracle -- astonishing proof of what market forces combined with superb top-down direction can achieve.