India Chooses IPhones Over Asset Bubbles
A rare central bank that won't enable government complacency.
by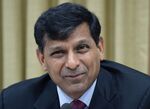 India's Raghuram Rajan is an outlier in Asia. Whereas other central bankers in the region are pumping ever-more air into asset bubbles -- New Zealand and South Korea further reduced interest rates last week, and Australia may be next -- Rajan has taken a go-slow approach. It's to Rajan's credit, and India's benefit, that he has shown such discipline.