Bipartisan Realism About Russia
From Obama to Bush, the policy choices are limited.
by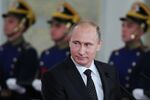 It could have been President Barack Obama issuing a firm warning -- measured, devoid of bellicose threats -- to Vladimir Putin that the West would keep the pressure on as long as Russia interfered with Ukraine's sovereignty.
Instead, it was Jeb Bush, the former Florida governor and a leading 2016 Republican presidential aspirant, speaking at a news conference in Berlin on Wednesday.
The political implication is minimal. It's not clear Russia will be a top issue in the presidential race, and Bush has bigger problems than sounding a bit like the president on one foreign policy matter. But the similarity of tone underscores the how difficult and problematic U.S.-Russian relations are.
Obama, his Republican critics notwithstanding, has been pretty resolute since Putin took over Crimea and began assisting separatists in eastern Ukraine last year. In response to the aggression, the U.S. has initiated tough economic sanctions and isolated Russia.
The instinct among many in America, including more than a few politicians, is to see Putin as a thug and Russia as a pale copy of the old Soviet Union -- "a gas station masquerading as a country," as Republican Senator John McCain is fond of saying.
Russia's economy is weak, reliant on the slumping oil and gas market, and suffering from the sanctions. But the country remains a huge military threat with a lethal nuclear arsenal, exhibits a public nationalism that feeds on restoring the glories of yesteryear and is an important player on global issues such as Syria, Iran and terrorism.
Two recent articles in the National Interest, published by the Center for the National Interest, illuminate the risky challenges the U.S. faces in dealing with Putin. (This is the former Nixon Center, no hotbed of mushy peaceniks.)  
Dimitri Simes, a Russia expert who runs the center, and Graham Allison, a Harvard professor and confidant of Defense Secretary Ashton Carter, wrote that ratcheting up pressure could play into Putin's hands. For example, a number of Obama's critics are calling on him to supply lethal arms to Ukraine, but Simes and Allison warn that might provide a "pretext" for Russia to respond "with arms or even troops, initiating a game of escalation." 
In Moscow, they report from personal observations, the anti-West hawks are ascendant: "Putin is not the hardest of the hard-liners in Russia."
Les Gelb, a former diplomat and leading member of the U.S. foreign policy establishment, notes that Russians felt humiliated by the West after the fall of communism. They lost a quarter of Soviet territory, half the population and much wealth. Thus, he argues, it's "totally unrealistic to think the West can gain Russian restraint" unless Russia is dealt with as a great power.  
The U.S. and Russia, he says, have to adopt a "Détente Plus" strategy of diplomacy, which he acknowledges that "formidable segments of the policy communities on both sides will not reconcile themselves to."
Dealing with a bully that behaves worse when it senses a lack of resolve or a lack of respect is a delicate task.
Yet Americans, focused on the atrocities of Islamic terrorists and the economic and political challenges posed by superpower China, have little recognition of the potential peril from Russia.
This threat is the subject of "Imperial Gamble: Putin, Ukraine and the New Cold War," by Marvin Kalb, a former diplomat and Russian scholar, to be published this autumn. In a recent blog post, he wondered whether the U.S. is "stumbling towards conflict with Russia."
Reflecting the reasoned postures taken by Bush and Obama, Mike McFaul, the U.S. ambassador to Russia until last year and a nemesis of the regime, warns that there are no quick fixes: "The United States-Russia conflict is not going to be resolved in weeks or months; this challenge will take years, even decades."
To contact the author on this story:
Albert R. Hunt at ahunt1@bloomberg.net
To contact the editor on this story:
Max Berley at mberley@bloomberg.net
Before it's here, it's on the Bloomberg Terminal.
LEARN MORE