Why Europe Outsources Terror Trials
U.S. laws make it easy to prosecute minor jihadis, even if they've never been here.
by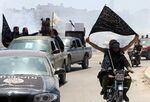 The U.K. government made headlines last week by withdrawing a terrorism prosecution against a Filipino-Swede who had fought for an al-Qaeda affiliate in Syria. It's unclear what'll happen to him now. It's politically unlikely but, in principle, he could actually be sent to the U.S. for trial. He wouldn't be the first European jihadi to land in the Southern District of New York; two Somali-Swedes and a Somali who had been a British subject recently pleaded guilty to terrorism charges. That they'd never been to the U.S until the FBI brought them here couldn't stop the prosecution.
It turns out U.S. law is distinctly well-suited to prosecuting jihadis -- and that's making us into a clearinghouse for minor fighters whose European countries of citizenship can't or won't put them behind bars.
This is a prime example of the extraterritorial reach that was demonstrated in the indictment of the soccer federation FIFA as a global criminal enterprise. It's also a marker of the extremity of the U.S. material support for terrorism statute, which uses the law of conspiracy to criminalize even a small step in the direction of participating in jihad, and allows for conviction of anyone who materially supports any organization designated as terrorist by the secretary of state.
Consider Bherlin Gildo, whose case was just dismissed in London. Born in the Philippines in 1978, Gildo immigrated to Sweden in 1992 and eventually became a citizen. He reportedly belonged to a gang in Gothenburg, Sweden's second-largest city.
It's not clear exactly when or how Gildo was radicalized. But by 2012 he was in Syria with Jabhat al-Nusra, an al-Qaeda affiliate fighting President Bashar al-Assad that splintered and sent some of its followers into Islamic State. Gildo posted pictures of himself on Facebook with what he said was a dead government fighter (the man was wearing civilian clothes) and in front of a black jihadi flag. He also took the nom de guerre Abu Dhirar al-Filibbini (the Filipino).
Somehow this activity captured the attention of international authorities, and Gildo was detained at London's Heathrow Airport while in transit from Copenhagen to Manila. The British, who had arrested him, didn't send him back to Sweden. Instead they put him on trial. The authorities charged Gildo with attending terrorist training in 2012 and 2013, and with receiving firearms training for the purposes of terrorism, both crimes under British law.
In court, things fell apart after news reports that MI-6 had sent weapons to Syrian rebel groups. Gildo's lawyers argued that it would be "unconscionable" to convict him for working with an organization that was fighting against Assad, and was receiving British government support to do so. As evidence, they provided news reports of MI-6 facilitating the transfer of arms from Libya to anti-regime forces in Syria.
For good measure, Gildo's lawyers emphasized that Gildo's alleged crimes were not crimes under Swedish law -- and that Gildo had no connection to the U.K., had never tried to enter the country and was merely passing through Heathrow. The efforts worked, and the prosecution withdrew the charges against Gildo.
How different things are under U.S. law. When Ali Yasin Ahmed, Mohamed Yusuf and Madhi Hashi were arrested by authorities in Djibouti for affiliation with the Somali group al-Shabab, they were questioned and held for months before eventually being shipped to the U.S. for trial.
Ahmed and Yusuf are Swedish citizens of Somali origin; Hashi, also a Somali, was stripped of his U.K. citizenship before being sent to the U.S. Sweden didn't want them sent home. The FBI questioned the men in Djibouti without reading them their rights. Hashi later testified in U.S. court that Djiboutian authorities tortured one of the others.
Under U.S. law, none of that matters -- nor does the undisputed fact that the men had no connection whatsoever to the U.S. They were charged under the material support for terror statute, 18 U.S. Code § 2339B. One of the farthest-reaching laws in American history, the statute outlaws not only any support for a designated terrorist organization, but also conspiracy to provide such support. It doesn't even matter if the U.S. government supported the organization in question.
Under this law, if two people agree to join some designated organization and take affirmative steps to fulfill their plan, they can be convicted, even if they never manage to participate in the jihad. Proof under the statute is remarkably easy to achieve.
Unsurprisingly, the men pleaded guilty to conspiracy to provide material support. They will serve their sentences, and then be deported. In effect, Sweden outsourced the trial and detention to the U.S.
So is this a good system? U.S. law makes it far easier to convict jihadis than the law of any other country, for two reasons. First, the U.S. is happy to extend its material support statute beyond its borders, to reach anyone who ends up under U.S. custody, regardless of how they got there or of what happened to them along the way. Second, U.S. criminal law has long embraced the crime of conspiracy, which holds participants responsible for the acts of an entire criminal group, even when the group is loosely organized.
The great majority of other countries refuse to exercise this kind of extraterritorial jurisdiction, and the great majority of other countries don't use the law of conspiracy to make conviction so easy. If those countries want to outsource terrorism prosecutions to the U.S., it's their business, and it's up to their own citizens to object if they don't like to see their legal systems circumvented.
From the U.S. perspective, however, the benefits of becoming a clearinghouse for detained jihadis are pretty hard to discern. The prison at Guantánamo Bay, Cuba, didn't work out very well in practice, and made many new enemies. The use of U.S. courts and prisons is slightly better from a human rights perspective. But it encourages other countries to step aside and let the U.S. be responsible for fighting terrorism.
The global struggle against jihadism won't be won by criminal prosecution of minor figures. Once in a while, it might be necessary to be the world's sheriff. But there's little upside in being the world's traffic cop -- even when the violators are jihadi wannabes.
This column does not necessarily reflect the opinion of Bloomberg View's editorial board or Bloomberg LP, its owners and investors.
To contact the author on this story:
Noah Feldman at nfeldman7@bloomberg.net
To contact the editor on this story:
Stacey Shick at sshick@bloomberg.net
Before it's here, it's on the Bloomberg Terminal.
LEARN MORE