New Jersey, You Should've Built That Tunnel
Colorado shows what investment in transportation can do for the economy.
by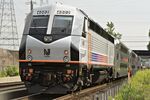 There are lots of reasons for bondholders to love Colorado and show no respect for New Jersey. Here's a big one: infrastructure. Colorado made a huge investment in it and is getting rewarded by investors. New Jersey didn't and is being punished.