Tsipras's Gambit Won't End Greece's Crisis
IMF and ECB must sign off on any deal.
by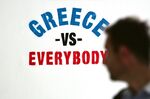 The "end around" is an old trick to unblock stalled negotiations: Top officials meet behind closed doors and reach a political compromise that is then imposed on the technocrats who must work out the details.
That's what Prime Minister Alexis Tsipras of Greece seemed to be attempting this week. Yet even if it works, which is far from certain, it won't be enough. At best, it would buy a little time until the deep differences among the parties reassert themselves.
QuickTake Greece's Fiscal Odyssey
Although several important debt-payment deadlines loomed, the seemingly endless rounds of negotiations between Greece and its creditors had made little progress. Tsipras sought to shift the dynamic by taking up key points of the negotiations directly with the European powerbrokers -- Chancellor Angela Merkel of Germany, President Francois Hollande of France and European Commission President Jean-Claude Juncker. 
Related: Greece Default Watch
Those talks seem to be making progress. Yet it will be difficult to transform this forward movement into durable success, in the form of an agreement on a path toward a comprehensive solution that allows the Greek economy to grow and its government to meet its social-policy objectives, while keeping the country in the euro zone and free from its status as a permanent ward of Europe.
Unfortunately, there are at least three important reasons for this lack of optimism:
First, all sides are negotiating with other people's money. And those who control these resources -- the European Central Bank and the International Monetary Fund -– are increasingly hesitant to go along with a piecemeal political approach that would offer little realistic chance for Greece's longer-term economic and financial viability. 
Repeatedly pressured by political considerations and disappointed by serial unfulfilled promises, the ECB and IMF have already assumed enormous financial and reputational risks. The institutions now appear far from comfortable with the idea of disbursing more money to support yet another unsustainable compromise.
Indeed, just as the leaders meeting in Brussels were making soothing comments Thursday, an IMF official in Washington said the fund's negotiating team was on its way home. "There are major differences between us in most key areas," the IMF spokesman, Gerry Rice, said. "There has been no progress in narrowing these differences" with Greece.    
Second, both the German and Greek leaders must contend with rather skeptical constituencies at home. They will need backing if the eventual compromise has any chance of getting parliamentary approval. For Germany, the risk is essentially that the government would be embarrassed. But for Greece, Tsipras' governing coalition could face political chaos that results in a disorderly early election.
Third, Greek citizens are less likely to buy yet another makeshift approach. A compromise agreement would not be enough to convince them to put their savings back into the banking system. It may not even be enough to stem the outflow of bank deposits, and to lower the risk that capital controls will be needed.
Meanwhile, the alarming first quarter unemployment data released Thursday (showing that the jobless rate increased to 26.6 percent, and that 71.6 of the unemployed had been out of work for at least 12 months) highlighted the extent to which Greece urgently needs more than just another Band-Aid.
Given the urgency of the situation, Tsipras is right to put his standing on the line and attempt to negotiate directly. But this strategy could yield a durable solution only if he is willing to commit to serious structural reform of his country's economy, and if the creditors are willing to support that effort with smarter austerity, debt relief and significant emergency funding.
Despite the diplomatic niceties, none of the parties involved are as yet close to meeting those conditions.
This column does not necessarily reflect the opinion of Bloomberg View's editorial board or Bloomberg LP, its owners and investors.
To contact the author on this story:
Mohamed A. El-Erian at melerian@bloomberg.net
To contact the editor on this story:
Max Berley at mberley@bloomberg.net
Before it's here, it's on the Bloomberg Terminal.
LEARN MORE