Concussion Rules Don't Apply to LeBron
In the playoffs, anything goes.
by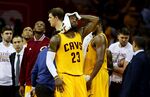 If three's a trend, it's official: The NBA has joined the NFL and the NHL as the latest sports league botching concussions.
We had Stephen Curry in Game 4 of the Western Conference Finals, hitting his head on the hardwood and getting evaluated for a concussion only to be diagnosed with a "head contusion" and return to the game. Klay Thompson, in the very next game, took a knee to the head, sustaining a concussion, and returned a week later for the opener of the NBA Finals. And on Thursday night, the most famous player in the world had his own brush with the NBA's concussion protocol.
In the second quarter of Game 4 of the NBA Finals, LeBron James tumbled to the floor and hit his head on a sideline camera. Bleeding profusely and in visible pain, shouting, "Oh my God," James grabbed his head as trainers wrapped it in towels. Then he picked himself up and stayed on the floor, determined to take his free throws. "I got to shoot or I can't come back in," he mouthed on the court. He was not evaluated for a concussion. According to a Cavaliers official, the concussion protocol is only initiated if there's a change in the player's mental status, which, apparently, wasn't the case with James, though he later admitted to having a headache.
Meanwhile, during halftime, Commissioner Adam Silver continued to tout his concern for player safety but deflected the question by ESPN's Sage Steele on James's potential concussion.
The NBA's concussion protocol states: "If a player is suspected of having a concussion, or exhibits the signs or symptoms of concussion, they will be removed from participation and undergo evaluation by the medical staff in a quiet, distraction-free environment conducive to conducting a neurological evaluation." NBA rules also state that if a player can't take his free throws, he can't come back into the game.
It seems that James being aware that he needed to shoot the free throws to remain eligible was enough to determine that he was thinking clearly, functioning properly, and not exhibiting concussion symptoms. That's a fairly low bar for assessing brain function. You'd think the Cavaliers would want to show caution when it comes to the best player they've ever had.
But it seems that once the playoffs start, health and safety concerns take a backseat to the immediate concern of winning. NBA fans have already had to adjust their expectations for the different set of rules in the postseason -- travelling seems to be entirely legal in June, for example. You can add adhering to concussion protocol to that list, especially when it involves the stars.
Because head injuries aren't nearly as prevalent in basketball as they are in football or hockey, there's been little scrutiny of the NBA's concussion protocol and its implementation. The league has made strides in reducing the risk of baseline injuries, cutting the number of cameras and creating more open space on both sides. (But as we saw last night, the cameramen are still too close.) Still, what happens after a contact is made leaves a lot to be desired. 
We saw firsthand an unintended consequence of the NBA establishing the injury threshold at a player being able to take his free throws: Players like LeBron -- "a warrior," in Silver's words -- will ignore symptoms and waive off an evaluation to remain on the court. That headache James later admitted to could be a symptom of concussion, but given that he's basically been carrying his team throughout the Finals, he decided his impact on his team outweighed the potential risk to his health.
That's the primary flaw in most sports' concussion protocols: It's up to the player to make the call. To these athletes, the protocol's stipulation that they be "removed from participation" if suspected of having a concussion reads like a threat, not a necessary protection. They're not even hiding that fact: "I knew I had to shoot the free throws or I wasn't going to be able to come back into the game," James said after the game. "So it didn't matter what was going on with my head at that point in time."  
Sounds like neither the league nor the player is thinking clearly on this one.
This column does not necessarily reflect the opinion of Bloomberg View's editorial board or Bloomberg LP, its owners and investors.