Is Anyone in Charge at Twitter?
Companies need a single leader, or at least a united front in the C-suite.
by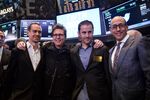 Diagnosing Twitter's problems has become an international pastime. I've engaged in it, as have far more informed and illustrious people, most recently and most wordily the early Twitter investor Chris Sacca. These critiques are generally made out of love, by people who are devoted to the social network and fret over how it keeps losing ground to the far less compelling -- to us, at least -- Facebook. Not to mention Instagram, Snapchat and whatever else comes along next week.