Why Apple Wants to Let You Block Ads
Millennials have no use for solicitations.
by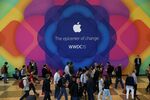 Apple is about to give iPhone and iPad users the opportunity to block ads. This follows a recent German court decision affirming the legality of ad-blocking software and may point to a wider rejection of invasive advertising. Companies with ad-based business models may soon have no choice but to rethink their approach.
Apple's anti-ad innovation is buried in the update notes for the mobile version of Safari, its Web browser. This autumn, users will get a Safari extension that allows them to block cookies that gather browsing data, as well as images and pop-ups. 
It's tempting to say that Apple is providing the capability because it doesn't depend on advertising revenue. Apple Chief Executive Tim Cook recently railed against tech companies that "have built their businesses by lulling their customers into complacency about their personal information" and are "gobbling up everything they can learn about you and trying to monetize it." But if you instantly think "Google," think again. According to PageFair, an Irish company that helps advertisers beat ad blocking by making ads less  intrusive, the use of blocking technology has been increasing mainly thanks to Google's Chrome browser, which already includes the features Apple has announced for Safari.
Related: If Apple Blocks Ads, Who Would Notice?
Besides, Google's operating system, Android, has long allowed ad blocking. This has often meant installing AdBlock Plus, the software developed by the German company Eyeo. It has about 50 million users on computers and mobile devices and a business model based on charging site owners to put them on a "whitelist" as "acceptable  ad"  providers. Apart from paying, these companies must to commit to some simple rules: no pop-ups, no sound, no self-launching videos -- in short, none of the aggressive formats Web users have come to hate. (Users can block the "acceptable" ads, too).
PageFair suggested Google may be Eyeo's biggest customer. According to PageFair, Google may be losing $6.6 billion in annual revenue due to ad blocking; being whitelisted allows it to save about $3.5 billion.
Eyeo is not happy with Apple's decision to offer ad blocking. It has warned that if the Apple-made extension isn't powerful enough -- and Eyeo is blocked from developing ad-blocking software for iOS -- "that could mean the end of ad blocking on Safari." That's probably sour grapes. If Apple's mobile devices become off limits because only the proprietary content blocking system is allowed, Eyeo will lose a great opportunity to expand into the Apple universe. Apple, meanwhile, will still collect ad revenue from its iAds program, which works inside applications, not in the browser, so the new extension wouldn't block it.
With giants such as Apple and Google involved, it's clear that ad blocking shouldn't be discounted. In the second quarter of 2014, there were 144 million active ad-block users globally, 70 percent more than a year before, according to a PageFair report. That's less than 5 percent of the global Internet population, but in the U.S., 27.6 percent of Internet users opt for an ad-free experience, and some European countries, notably Poland and Sweden, are approaching that level. Millennials are the biggest ad haters: 41 percent of U.S. Internet users between 18 and 29 kill ads.
Many ad-financed businesses are unhappy. In Germany, influential newspapers such as Die Zeit and Handelsblatt and broadcasters such as RTL and ProSiebenSat1 have sued AdBlock Plus -- and lost, most recently last month Courts have remained deaf to the content providers' appeals to freedom of speech. 
Suing is pointless and content businesses need to rethink the way they do advertising. In some cases, it's just a matter of making them less annoying, as Google co-founder Larry Page suggested at the company's shareholder meeting. "Native advertising" -- sponsored content that can't be blocked -- is another way forward, though it's a grey area for companies proud of their journalism. Partnering with social networks could work, too: Facebook has the engineering firepower to fight ad blocking.
The holy grail, however, is getting users  to pay for content. For now, few publishers are able to do this, but the ad allergy of millennials must eventually lead the industry back to to a focus on subscriptions -- and the survival of the fittest: that is, those publishers whose content is worth paying for.
This column does not necessarily reflect the opinion of Bloomberg View's editorial board or Bloomberg LP, its owners and investors.