The Rise and Fall of America's Favorite Iraqi Sheik
The U.S. pullout devastated the allies Obama needs today.
by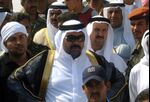 There was a time, not long ago, when Sheik Ahmad Abu-Risha al-Rishawi was the face of a revolution. Known as the Awakening, it was a movement of Sunni Arab tribes to drive al-Qaeda from the western provinces of Iraq. Sheik Ahmad was one of the leaders and founders of this coalition along with his brother, who was assassinated in 2007.