France's Thwarted Economic Glory
It might top Germany, but not with policies like these.
by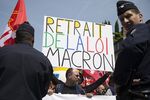 There's this country in Europe with a large, growing working-age population. Its workers are more productive than their counterparts in the other big European economies, and they're far from maxed out -- they spend fewer hours on the job than is the norm in developed countries. Income inequality isn't worsening in this affluent land, and the people there live long, healthy lives. They also have lots of babies, by European standards. The museums are great, too.