Why the Texas Abortion Law May Stand
Is it an "undue burden" on women? Only if five justices say so.
by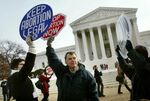 In the wake of the decision by the U.S. Court of Appeals for the Fifth Circuit upholding a Texas law that would close many of the state's abortion clinics because they don't comply with new regulations, you might be thinking that the conservative court's decision can't possibly survive Supreme Court review. Think again.