Paying Student Loans Is Hard. Do It Anyway.
The writer who shirked is just forcing others to pay his debts.
by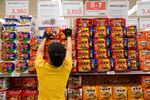 Usually, when someone writes an essay about why they defaulted on their student loans, they strain to include details that evoke sympathy. The parents who struggle to feed and clothe their children, and get them to school in a car that is forever breaking down. The hapless victims of places like Corinthian Colleges, first-generation strivers who believed that a degree -- any degree -- would give them a ticket out of the grind. The law school graduates taken in by misleading employment statistics that led them to believe their six-figure debt would be easily repaid when they got that first law job. The desperate millions who found the financial crisis robbing their parents of the ability to pay tuition, at the same time as well-paying jobs became a lot harder to come by. Who wouldn't be sympathetic to any of these folks?