Jeb Bush Flunked His Berlin Test
A safe German audience found little to love.
by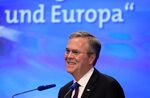 When Barack Obama spoke in Berlin in 2008, one could see how and why he would get to be U.S. president. When Jeb Bush made his appearance here Tuesday, he showed how and why he probably won't.