Bank of Japan Hands Off to Abe
Kuroda hints that he will push no more stimulus.
by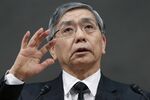 Is the Bank of Japan finished with stimulus? Governor Haruhiko Kuroda hinted as much when he spoke in parliament on Wednesday. Kuroda didn't explicitly say he's done with his unprecedented quantitative-easing programs. But he did say he doesn't envision a deeper drop in the yen's value.