So What If Iran Isn't Trustworthy?
Even if an adversary cheats, you can still do a deal.
by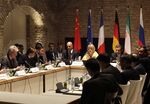 Opponents of the Barack Obama administration's Iran negotiations have long insisted that the Tehran regime has cheated, is cheating and will cheat. After recent reports that Iran has been increasing rather than reducing its stockpile of enriched uranium, even supporters of the negotiations now concede that Iran will cheat if it can.