Questioning New Standards for Civil Disobedience
Is refusing to obey safety rules the same as standing up to racial segregation?
by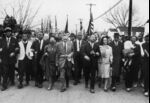 Civil disobedience is an honorable American tradition. The Boston Tea Party helped spark the Revolutionary War, and during the 1960s civil rights movement, Martin Luther King Jr. celebrated civil disobedience as "expressing the highest respect for law." Invoking King's idea (if not his name), prominent conservatives are now calling for new forms of disobedience. Some of their arguments are hard to accept, but they have a kind of internal logic, and they are resonating in influential circles.