Putin Is No James Bond Villain
U.S. and Europe face much bigger threats.
by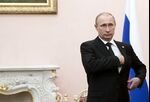 Despite spending hundreds of millions of dollars on foreign-language propaganda, all that President Vladimir Putin has achieved outside Russia is the status of a Bond movie villain. He may enjoy it, especially since there's no 007 in sight to tackle him, but his variety of pop stardom is growing into a problem for his country: He is seen as a bigger threat to the West than his actions warrant.