Corporations Have to Pay Taxes After All
The OECD's crackdown on tax avoidance is showing results.
by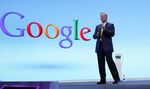 That was fun while it lasted! The great multinational experiment -- led by such American innovators as Apple, Amazon, Starbucks and Google -- in shifting corporate income to a magical stateless place where it was never taxed seems to be coming to an end.