Triple Crown Winners and False Correlations
What's random and what's significant?
by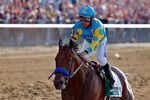 About a year ago, we discussed what happens "When Correlations Lie." Delving into the classic logical fallacy that correlation implies causation, we looked at equities and a variety of supposedly related factors, including gross domestic product, rising interest rates, earnings surprises, new financial products and the "death cross" involving daily moving averages. All were classic coincidences of correlations that didn't have any actual causal effect on subsequent equity performance.
But the issue of a lack of causation doesn't seem to stop traders from looking for some way to create an actionable trading opportunity. An entire mythology has developed around relationships of dubious causal value between variables.
Let's look at the relationships between stocks and two variables: Triple Crown winners and regional banks. This came up during the weekend as two of my go-to sources discussed each.
First, the Triple Crown:

Source: Bespoke
Bespoke took a tongue-in-cheek look at the track record of the market after a Triple Crown winner. With one notable exception, it has been negative. It noted that in "all years since 1928 where there was not a Triple Crown winner, the index has averaged a gain of more than 5% with positive returns more than 75% of the time." Market participants should have been rooting against American Pharoah, the first Triple Crown winner in 37 years, if they wanted to see the markets enjoy a positive return for the rest of 2015.
If you ask yourself how one horse winning three specific races could possibly have any impact on the equity markets, congratulations! You are thinking like a statistician. As is the case with the Super Bowl indicator, the outcomes of various sporting events are irrelevant to the many forces affecting markets (most notably, discounted cash flow and earnings growth).
A second event is the breakout in the performance of regional banks, as depicted in the SPDR KWB Regional Banking Index:

Source: Reformed Broker
As my colleague Josh Brown noted at the Reformed Broker, the "KRE ETF is based on the SPDR S&P Regional Bank index. It contains 89 holdings, and the top ten names only comprise 13% of the fund, which means it's highly diversified within the sector. It's got just over $2 billion in AUM, so the KRE is not responsible for driving the stocks it is comprised of – the stocks themselves are being bought."
Which raises an interesting question: What does the recent outperformance of regional banks mean in terms of the market? Since the fund was formed on June 19, 2006, the market seems to follow gains in the fund. On the other hand, when the market collapsed in 2008, that seems to have pulled the fund down with it.
Also of note is that we have a decade's worth of data -- that is simply an insufficient sample set to draw any definitive conclusions. However, there may be some causal relationships with the rest of the market. Regional banks tend to reflect the needs of smaller businesses and local consumers. Perhaps the outperformance of regional banks implies that the U.S.'s narrow and slow recovery is beginning to broaden to the rest of the economy. That could mean more profits for companies beyond the big multinational corporations.
Or it could be wholly unrelated. Perhaps it is just a bet by investors that interest rates are finally going higher, and these smaller banks can improve their earnings with a wider spread on higher rates.
Whenever we compare any two variables, there is a significant probability that a statistical correlation will appear by chance. You can see some amusing examples of random correlations on Tyler Vigen's site, spurious correlations, which is now a book of the same name.
All too often, investors are fooled by this randomness into believing that one factor is the cause of a future result. I can't tell you the reason for the regional bank breakout, but -- unlike the Triple Crown winner -- at least it may be causally related to future market performance. 
This column does not necessarily reflect the opinion of Bloomberg View's editorial board or Bloomberg LP, its owners and investors.
To contact the author on this story:
Barry L Ritholtz at britholtz3@bloomberg.net
To contact the editor on this story:
James Greiff at jgreiff@bloomberg.net
Before it's here, it's on the Bloomberg Terminal.
LEARN MORE