Obama Holds Trump Card Over Passports
Liberals on Supreme Court swayed to support expanded executive power.
by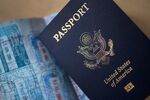 Remember the days of the George W. Bush administration, when conservatives liked executive power and liberals criticized it? Those days are gone. On Monday, the U.S. Supreme Court's liberals powered a 6-3 decision giving President Barack Obama exclusive executive power to decide how to label the birthplace of Jerusalem on U.S. passports. The much-anticipated case, Zivotofsky v. Kerry, will become a landmark in the constitutional law of the separation of powers. But the weird politics of its lineup will confound students for generations, unless they take account of both changes in the party in the White House and the gravitational pull of U.S. Middle East policy.