How Will Bond Market See Deutsche Bank's New CEO?
The outgoing CEO was one of bond traders' best friends.
by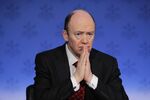 As my colleague Matt Levine eloquently delineated last week, people are worried about bond market liquidity. To recap: People who buy and sell fixed-income securities for a living are concerned that the big investment banks are less willing to commit money to the market, which in turn makes it harder to trade at moments of distress. For those already anxious about the health of the bond market, Deutsche Bank's decision to defenestrate its co-chief executive officer Anshu Jain is a worrying development.
As Europe's biggest bank measured by assets, Deutsche Bank plays a central role in keeping the wheels turning in the international capital markets. And as long as the bond market veteran Jain -- whose career includes stints as a research analyst at Kidder Peabody, a derivatives salesman at Merrill Lynch, and the head of global markets at Deutsche -- was serving as one of its co-CEOs, the Frankfurt-based institution was committed to the fixed-income market even as other banks were reducing their headcounts and curtailing their trading activities.
That strategy, though, hasn't been a success. Deutsche Bank will have the lowest return on equity this yearcompared with eight of its global peers, according to forecasts compiled by Bloomberg Intelligence:

What's more, BI's figures suggest Deutsche will remain bottom in class next year and the year after. Its 2016 returns of 6.49 percent will lag the median of 8.68 percent, while 2017's 7.03 percent performance will compare with 9.18 percent for the industry as a whole.
With profit targets missed and investors baying for blood, Deutsche Bank is now changing tack. Jain is out at the end of the month, and his sidekick Juergen Fitschen will leave next May. Incoming CEO John Cryan made his name by shrinking the balance sheet at UBS. During his tenure as chief financial officer, the Swiss bank slashed its assets to 1.2 trillion Swiss francs ($1.3 trillion) from 2 trillion francs. Moreover, UBS had fewer than 62,000 employees at the end of last year, down from more than 65,000 in 2009; by contrast, Deutsche Bank's workforce has swollen to more than 98,000 from 77,000 in the same period.
So a job cuts, a smaller balance sheet and a swifter curtailment of trading activities would all seem to be on the cards at Deutsche Bank -- which in turn suggests another contraction in market liquidity is on the horizon.
Here's a chart, courtesy of Bank of America Merrill Lynch's London team, illustrating the scale of the liquidity problem in the market for U.S. government bonds, the world's benchmark debt arena:

As banks diminish their commitment to markets, investors also become less active.
Here's another Bank of America chart that suggests it's not just banks and the bond market that are showing signs of petrification; investor activity in corporate debt, government bonds, equities and commodities has also slumped in recent years, as the red line showing the 10-week moving average shows:

Bloomberg Intelligence analysts Jonathan Tyce and Arjun Bowry argue that, given the shrinkage in both trading activity and in the inventory of bonds held by investment banks, policy makers will soon have to consider whether new rules forcing banks to hold more capital against their assets and liabilities might be making finance riskier, rather than safer:
U.S. dealer inventory, down 14-fold from its 2006-2007 peak, is about half the level it was in 2001. This contraction in secondary-market liquidity will be a key bargaining chip in ongoing negotiations between banks and regulators on appropriate bank solvency lessons.
It won't be easy to resolve the raging debate about whether regulators are moving too far in the demands they're imposing on financial institutions. The rule-makers are right to demand higher standards in the wake of the credit crunch that sparked a global recession; but the banks may also have a point about the law of unintended consequences if regulation becomes a market straitjacket.
The changing of the guard at Deutsche Bank, though, suggests markets may have to get used to a self-imposed straightjacket. In the same way that economists have become resigned to slower growth since the financial crisis, traders may have to adjust to a permanent withdrawal of capital committed to the world of buying and selling securities.
This column does not necessarily reflect the opinion of Bloomberg View's editorial board or Bloomberg LP, its owners and investors.