Scott Galloway on Digital-Age Marketing and Branding
Scott Galloway on marketing and branding in the digital age.
by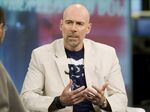 This week in our Masters in Business radio podcast, we speak with Scott Galloway, a professor specializing in brand strategy and digital marketing at New York University's Stern School of Business.
Galloway has founded and/or sold several companies, including Red Envelope, Prophet and L2. In 2010, he created the Digital IQ Index, a global ranking of prestige brands' digital competence. The index, which tracks brands across 850 data points, led to the creation of L2, a digital brand consulting company.
Listen to the full podcast interview on iTunes, SoundCloud and on Bloomberg.com. Earlier podcasts can be found on iTunes and at Bloombergview.com.
Next week, we speak with University of Chicago Booth School of Business professor Richard Thaler, one of the founders of the field known as the behavioral economics.
This column does not necessarily reflect the opinion of Bloomberg View's editorial board or Bloomberg LP, its owners and investors.