Are Dark Days Ahead for Turkey?
Erdogan's party lost its majority, but what he does next matters more.
by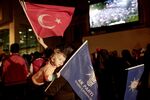 So it turns out voters don't like it when you build a $600 million presidential palace. The Justice and Development Party, or AKP, led by Recep Tayyip Erdogan, lost its majority in Sunday's Turkish elections for the first time in 12 years. A new pro-Kurdish opposition party, the Peoples' Democratic Party, or HDP, crossed the 10 percent threshold necessary to get into parliament.
But it's too soon for Erdogan's enemies to start celebrating his downfall -- or for democracy lovers anywhere to be entirely sanguine at this result. The AKP still won a plurality of 41 percent, much more than the next largest party, the Republican People's Party, or CHP, which got roughly a quarter of the votes. The AKP may well be able to form a coalition government or govern as a minority party. Erdogan might alternatively call new elections.
But the biggest worry is Erdogan himself. Although he won't be able to adopt sweeping new constitutional changes without a two-thirds majority in parliament, he could very well continue his efforts to strengthen the presidency within the bounds of the existing constitution. If he does that, he will chip away further at Turkey's democratic character -- and maybe throw the country into constitutional conflict.
Democracy in Turkey has followed a very complicated trajectory since the rise of the AKP in 2002. First, AKP seemed like the harbinger of a more democratic Turkey with greater protection for civil liberties. The AKP, then and now associated with moderate political Islamism, relaxed some legal restrictions on religious liberty. It gave more freedom to Turkey's Kurdish population, permitting both the Kurdish language to be spoken and peaceful Kurdish political organization. The news media felt freer than it had under previous, more secular governments. And AKP initially pursue foreign policy directed toward acceptance into the European Union.
Gradually, as the AKP consolidated power, and after Europe definitively signaled that it did not want to grant Turkey full membership, things changed. The news media came under pressure not to criticize Erdogan. The government resumed its military struggle against insurgents from the Kurdish Workers' Party, or PKK, in earnest, reaching a cease-fire only in 2013. Most prominently, scores of military leaders, journalists and other high-profile citizens were arrested in a series of major purges, and accused of plotting to overthrow the government. Subsequent trials were sharply criticized by international rights organizations.
In 2013, protests in Istanbul over the planned destruction of Gezi Park were put down by force. When in 2014 Erdogan shifted from prime minister to president, assuming de facto leadership of the government, it was time to worry that democracy in Turkey was in serious trouble. The palace was just an overt symbol of growing authoritarian presidentialism.
Will all that suddenly end because of the parliamentary elections? Appealing as it would be to think so, there's a significant reason to doubt it. Erdogan won almost 52 percent of the vote in the presidential election in August. Given the authoritarian turn that his governing personality has taken in recent years, it's entirely possible that he'll reject the idea that the public is tiring of him. He might blame, for example, the fact that Turkey's foreign policy has been so hapless recently.
Erdogan's hand-picked prime minister, Ahmet Davutoglu, presided as foreign minister over a series of whipsaw policy changes. On his watch, Turkey went from being pro-Syria and eager to open trade ties with Bashar al-Assad to outspokenly anti-Assad and supporting the Free Syrian Army. A policy of neo-Ottoman influence throughout the Balkans and the Middle East turned into a push for leadership of Islamist movements that emerged after the Arab Spring. Then, when the Egyptian Muslim Brotherhood was displaced by a military coup, the pan-Islamist policy was also shown to be a failure.
Davutoglu failed up, becoming prime minister because Erdogan wanted someone for the job who lacked a political constituency of his own and would be completely reliant on Erdogan. For that reason, Davutoglu is expendable -- and Erdogan could demand that he take the blame for the outcome.
Practically, Erdogan may be able to continue to use his influence over the prosecutorial service to arrest opponents and threaten journalists. Opposition parties can complain all they like in parliament -- but they probably won't be controlling ministries or other governmental institutions.
In other words, the electoral setback may make Erdogan more autocratic, not less. This would not be unprecedented for a leader who was already flirting with a shift from democracy to something more like elected presidential dictatorship.
If Erdogan continues to act anti-democratically, expect a constitutional crisis to develop. The Turkish constitutional court has been a stalwart opponent of the AKP, coming close to banning Erdogan and his party from politics. It would be the natural venue for a challenge to Erdogan's powers -- and the court might well believe that the electoral results strengthen its stance.
The bottom line is that Sunday's election was a good moment for democracy in Turkey -- but it also heralds a delicate period to come. Here's hoping Erdogan now recalls the democratic political instincts that brought him to power in the first place -- and realizes that, if he starts governing more democratically and more modestly, he can still salvage his historical reputation as a great figure who brought more democracy to Turkey, not less.
This column does not necessarily reflect the opinion of Bloomberg View's editorial board or Bloomberg LP, its owners and investors.
To contact the author on this story:
Noah Feldman at nfeldman7@bloomberg.net
To contact the editor on this story:
Stacey Shick at sshick@bloomberg.net
Before it's here, it's on the Bloomberg Terminal.
LEARN MORE