OPEC Opens the Oil Spigots
Saudi Arabia and Russia will increase production to hurt U.S. frackers.
by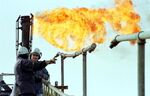 As expected, the Organization of Petroleum Exporting Countries agreed Friday to maintain crude oil production at 30 million barrels a day. In effect,  that means a license for both OPEC and non-OPEC producers to increase output as they see fit. Saudi Arabia intends to continue its price war on U.S. shale that was interrupted by the recent speculative upswing in crude prices.