Hong Kong Embraces China's Bubble
Doing business with the mainland's restless traders is a bad idea.
by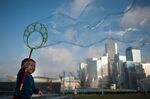 Bill Gross of Janus Capital says his next great short trade may be Chinese stocks. With the Shenzhen and Shanghai markets up another 9 percent this week, it's not hard to understand why. But the investment guru might want to consider betting against Hong Kong, too, given that city's continued courting of high-volume traders from mainland China.