Does Outsourcing Explain the Wage Gap?
Maybe, though corporate performance might be the real reason.
by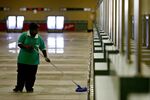 Increasing wage inequality in the U.S. is associated -- mainly, if not entirely -- with expanding wage gaps between companies rather than within them. But what's causing those gaps to expand? Are the high-paying companies doing something new and different, or are they simply outsourcing the jobs of low-wage workers?