Cheers for the FIFA Prosecutor
After Attorney General Lynch exposed FIFA's corruption, Latin America followed her lead.
by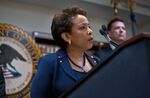 Loretta Lynch is Latin America's new best friend. To judge by the chatter on the Web, the U.S. attorney general, who indicted 14 world soccer muckety-mucks, could run for office or the Supreme Court anywhere below the Florida Straits.
Latin Americans already knew the brass at the Federation Internationale de Football Association had turned their favorite game into a "Persian bazaar," as one Brazilian paper put it. FIFA corruption was the worst-kept secret in the $1 billion-plus-a-year business.  And of the 14 soccer big shots indicted on charges of fraud, corruption and racketeering, all but two of them were from Central America, South America or the Caribbean.
The region has shown it is fed up with cheats in suits, whether in government palaces or palatial hotels in Zurich. A number of Latin nations are confronting political corruption and have brought some of their highest authorities to justice. Honors to Brazil's "Operation Carwash" prosecutors scouring the looting at Petrobras, and Guatemala's tax-fraud busters who have brought down the vice president and put a handful of government ministers in handcuffs.
So although the region has a continental chip on its shoulder over a history of gringo intromission, many were quick to praise Lynch for exposing the rotten core of the world's most popular sport.
The imperious football aristocracy somehow had managed to elude the scrappy Latin backfield. Yet several countries have followed Lynch's lead to root out further foul play.
In the days following the U.S. attorney's indictments, Argentina, Brazil and Costa Rica announced their own legal actions against Big Football. Brazilian federal police have asked prosecutors to press charges against Ricardo Teixeira, longtime Confederation of Brazilian Football boss, who learned the trade at the feet of his former father-in-law, legendary FIFA sovereign, Joao Havelange.
It was Havelange -- Blatter's predecessor, and organizational godfather  -- who spread soccer franchises to Africa and Asia, turning FIFA into a global brand. No one in Brazil was surprised that Havelange too has fallen under scrutiny for allegedly stepping out of bounds.
The dragnet may yet widen. Three-time balon d'or footballer Ronaldo and former World Cup idol Tostao  recently suggested that Brazilian federation president Marco Polo Del Nero should follow FIFA president Joseph Blatter out the door. His former teammate, Romario de Souza Faria, now a lawmaker, has started a congressional inquest  into the sport.
And few footballers seem to have kind words for former federation chief Jose Maria Marin, who once famously pocketed a player's medal  (he claimed it was a gift) at a tournament championship, and is now in a Swiss jail.
Beyond evicting some five-star bums, Lynch's soccer cleanup may launch a few careers. No sooner had Blatter announced he was stepping aside than a number of prospective successors emerged.
One was Zico, the legendary Brazilian striker-turned-coach and soccer impresario. "A new attitude is coming," he vowed, announcing his candidacy. "The time for change is now."
Mark that as an assist for Lynch.
To contact the author on this story:
Mac Margolis at mmargolis14@bloomberg.net
To contact the editor on this story:
Philip Gray at philipgray@bloomberg.net
Before it's here, it's on the Bloomberg Terminal.
LEARN MORE