Bergdahl Lawyer Seeks Removal of Army Nominee From Case
The general could have a conflict of interest.
by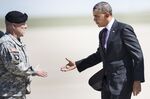 The Army general who decided to charge former Taliban hostage Bowe Bergdahl and still controls his court-martial should be removed from the case because his nomination to become the next Army chief of staff creates a conflict of interest, according to a new appeal from the former hostage.
Bergdahl's legal challenge, filed to the U.S. Appeals Court of the Armed Forces on Friday, is largely based on an interview I did last month with Senate Armed Services Committee Chairman John McCain. McCain said his committee was set to do a full investigation into the Bergdahl case, including both the details of his disappearance in 2009 and whether he served with "honor and distinction," as National Security Adviser Susan Rice said last year. McCain has been a tough critic of both Bergdahl and the deal for his release, in which President Barack Obama released five Taliban commanders from Guantanamo Bay, Cuba.
The nomination of General Mark Milley, the Army officer who decided to charge Berghdal, sits before McCain's committee now.
Milley still controls the court-martial, in which Bergdahl is charged with desertion and misbehavior before the enemy, related to his disappearance from his base in Afghanistan. Bergdahl was captured and held by the Haqqani network in Pakistan from 2009 to 2014. Bergdahl's first hearing, originally scheduled for July, has now been pushed back to September and will be held at Fort Sam Houston in Texas. There is no date set yet for Milley's nomination hearing in the Senate, after which the committee and then the full Senate would vote on his promotion.
In the court filing, Bergdahl's lawyer Eugene Fidell wrote that the issue was whether an officer whose nomination sits before a committee whose chairman has publicly stated an intention of investigating pertinent matters has "an interest other than official because of his personal interest in being confirmed, such that he is disqualified from serving as a convening authority in that case."
Fidell pointed out that as long as the general is the convening authority, Milley alone has the authority to charge Bergdahl or enter into a pretrial agreement. Milley also has the power to decide on whether defense requests for things like investigative assistance will be granted.  He also is in charge of the selection of the five military officers who will sit on the court-martial to adjudicate the Bergdahl case.
Bergdahl's team asked Milley to voluntarily recuse himself on May 17, just after McCain's interview with me was published, but Milley declined to do so. Now Bergdahl's lawyers are asking the court to dismiss Milley from any further participation.
Fidell also points out that Milley, as the head of U.S. Army Forces Command, is not the only one who can serve as the General Court Martial Convening Authority. The Army could transfer that responsibility to U.S. Army North, where Bergdahl is now living and working, for example.
Fidel also states that one unnamed "national television network" has perpetrated a "prolonged, unrelenting campaign of vilification" of Bergdahl. The Fox News network has commentators who are particularly critical of the former hostage.
In his interview, McCain told me that his committee's investigation could take months. The court will have to decide whether the perception of a conflict of interest is worth starting the court-martial process over with a new convening authority. That could add months more to a process that is already moving slowly, but could ultimately send a former hostage to prison for the rest of his life.
To contact the author on this story:
Josh Rogin at joshrogin@bloomberg.net
To contact the editor on this story:
Philip Gray at philipgray@bloomberg.net
Before it's here, it's on the Bloomberg Terminal.
LEARN MORE