Someone Believes in Rick Perry
Somewhere, someone believes in Lincoln Chafee, too, even if it's the candidate himself.
by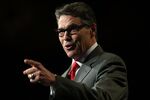 Rick Perry is going to do two things no one has done before, at least in the modern era of presidential nominations. No one who flopped so spectacularly as a presidential candidate has ever returned to try again. Also, no one has ever run while under indictment.