Poroshenko Makes Putin Look Like a Wimp
Ukraine's president makes the speech his Russian counterpart should have made.
by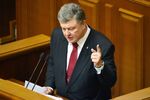 Ukrainian President Petro Poroshenko, in his first state of the nation address, offered an impressively concrete plan for turning his country's economy around. Difficult as it may be to convert his vision into reality, it's a speech that Russian President Vladimir Putin should have had the courage to make.
In December, when Putin made his address to the Russian parliament, he had little to say about an economy in which bribe-seeking officials and an oppressive state are crushing the dynamism needed to get out of a deepening slump. All he offered was a cut in the number of inspections that businesses have to endure from all kinds of regulatory bodies and a four-year freeze on the existing tax regime. In speech that stretched to more than 8,000 words in English translation, he didn't speak a word about corruption or address how his billionaire friends have enriched themselves on government contracts.
Poroshenko's approach was so different that it's hard to imagine the two countries used to be almost one. Invoking Thatcherism and Reaganomics, he expressed dissatisfaction with his government's efforts to ease tax and regulatory burdens -- it has cut the number of business activities requiring licences to 26 from 56 and scrapped the obligatory certification of a number of products. "No one has felt yet that things are substantially easier and we need specific results like oxygen," he said.
He stressed the need for broad privatization, saying state companies' management "has already been privatized along with their revenue streams." Himself a billionaire (or as close to one as any Ukrainian can be under the circumstances), he said oligarchs would no longer get rich off Ukraine's once-huge fuel subsidies, which have already been sharply reduced.
Poroshenko complained that his government's anti-corruption campaign had so far succeeded mainly in making bribery more expensive by increasing the risk to bureaucrats. "The image of the state is formed in citizens' eyes by the tax inspector, the customs man, the cop," he said. "While they're on the take, people won't believe the sincerity of our anti-corruption intentions." He said further reforms were already under way in the police force and prosecution service, led by people who had achieved results in Georgia after its 2003 Rose revolution.
To be sure, Ukraine's economic predicament leaves it little choice but to embrace radical reform. Its gross domestic product declined 17.6 percent in the first quarter, compared with a drop of 1.9 percent in Russia. As Herman Gref, chief executive of Russia's biggest bank, Sberbank, joked in a recent interview, "reforms begin when money runs out, so we'll wait for that to happen." Still, relaxing government pressure, shaking up the corrupt bureaucracy and creating opportunities for private business in Russia could help offset the effect of the cool war and the country's international isolation.
Putin is missing his chance. Poroshenko, prodded by his Western allies and creditors, is eager to seize his. 
It's hard to say whether Poroshenko can actually transform his country. Serhiy Leshchenko, a former investigative journalist and now a legislator with Poroshenko's party, recently wrote a long article about the Ukrainian oligarchs' continued sway over the country's economy. Businesspeople still complain of corruption reaching into the top echelons off government. And some of the measures Poroshenko proposes -- such as the old idea of anti-corruption sting operations -- are little more than populist noise. 
Still, at least Ukraine is heading in the right direction. Putin, whose country is better off and much less anarchic, could have achieved much greater success with less effort -- but he's too intent on his grievances and territorial ambitions to care. If Ukraine manages to pull out of the deepest crisis in its history and re-emerge as a functioning democratic country with a liberal economic model,  it will do more to undermine Russians' passive support for Putin than any Western pressure ever could.
To contact the author on this story:
Leonid Bershidsky at lbershidsky@bloomberg.net
To contact the editor on this story:
Mark Whitehouse at mwhitehouse1@bloomberg.net
Before it's here, it's on the Bloomberg Terminal.
LEARN MORE