What the Jobs Data Will and Won't Tell Us
Will employment and wage growth begin to make sense?
by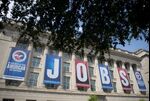 It has become increasingly difficult to reconcile different sets of data to form a coherent and decisive picture of the U.S. economy. Nowhere is this problem more evident and consequential than when comparing the contrasting developments in job creation (which has been robust) and the sluggish gross domestic product and wage growth. The jobs report for May that will be released Friday won't clarify the whole picture, though it could provide some clues.