Japan's Peter Pan Problem
QE won't fly unless the public thinks it will.
by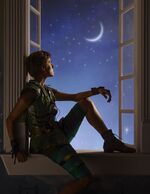 There are plenty of people in Asia who believe Haruhiko Kuroda, governor of the Bank of Japan, lives in Neverland. At the very least, economists on both sides of Japan's deflation debate -- those who worry Kuroda has weakened the yen too much, and those who believe he hasn't done enough -- think his policies have been out of touch.