The Tragedy of the Monet in the Basement
Taxpayers deserve to see more than 5 percent of museums' collections.
by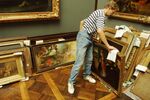 In 2008 Eli and Edythe Broad, the most important art patrons in Los Angeles, shocked locals by deciding not to give their 2,000-piece contemporary art collection to the Los Angeles County Museum of Art -- even though they'd donated $60 million for the museum's new contemporary art gallery. Instead, they're building their own museum in downtown L.A., which is scheduled to open September 20.