Reform FIFA From the Bottom
Corruption in global soccer starts in country associations.
by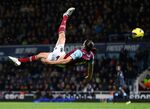 Now FIFA's Sepp Blatter era is over, the governing body of global soccer has the chance to reform itself so that fair play applies to the game off, as well as on the pitch. My colleague Mark Gilbert has proposed turning FIFA into a public company and I have advocated auctioning the status of World Cup host nation, but for now at least, such radical changes are unlikely.