Editorial Board
FIFA's Next Penalty Kick
With Sepp Blatter gone, it needs to revisit the 2018 and 2022 World Cups.
by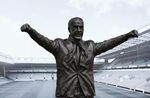 "Some people believe football is a matter of life and death," Bill Shankly famously said. "I can assure you it is much, much more important than that."
The quote, from Liverpool's legendary manager of the 1960s and '70s, partly explains Sepp Blatter's surprise resignation as president of FIFA on Tuesday. But it also shows why his resignation isn't enough. The first order of business for his successor is to reconsider and, if necessary, reopen the bidding for the 2018 World Cup in Russia and the 2022 tournament in Qatar.
Blatter says he'll stay on while his replacement is chosen. It's an offer FIFA should feel free to refuse. Blatter might be tempted to meddle in the election of the next president, which needs to be transparent and fair. Ideally, it will draw from a wide range of candidates, not just the incumbents who already haunt the granite-clad subterranean conference rooms of FIFA's Zurich headquarters.
The trigger for Blatter's resignation -- just days after being re-elected to a defiant fifth term -- appears to be evidence directly linking his chief lieutenant, Jerome Valcke, to a $10 million bribe. It seems South Africa's successful campaign to secure the rights to the 2010 World Cup included a kickback it paid to the former FIFA vice president in return for his support of the bid. South Africa denies the allegation.
Just because the 2010 bidding may have been rigged doesn't necessarily mean it was crooked for the later tournaments as well. But Swiss authorities who raided FIFA's headquarters last week said they're investigating possible crimes related to the Russian and Qatar selections. If FIFA wants to show it is committed to reform, it will reopen the bidding -- or at the very least release its internal investigation into the deficiencies (and that's putting it mildly) of the process.
Russian President Vladimir Putin last week described the U.S. legal attack on FIFA as "a blatant violation of the principles on which international organizations function." But there are even higher principles -- of fair play, for example -- that international organizations should abide by. And the U.S., with its history of tracking terrorist money through the world's financial system, is uniquely well placed to gather evidence of kickbacks and theft by FIFA and its officials -- even if chagrin at its failure to win the 2022 competition for itself might have contributed to its enthusiasm to pursue the miscreants.
Soccer corruption isn't a victimless crime, as the U.S. Justice Department points out in its 47-count indictment: "It has profoundly harmed a multitude of victims, from the youth leagues and developing countries that should benefit from the revenue generated by the commercial rights these organizations hold, to the fans at home and throughout the world whose support for the game makes those rights valuable."
Not as eloquent as Shankly, obviously. But the indictment shows that soccer's governing body is in need of root-and-branch reform -- a process that only begins with Blatter's resignation.
--Editors: Mark Gilbert, Michael Newman.
To contact the senior editor responsible for Bloomberg View's editorials: David Shipley at davidshipley@bloomberg.net.
Before it's here, it's on the Bloomberg Terminal.
LEARN MORE