Blatter's Gone, Qatar Should Be Next
Move the tournament to a country that respects human rights.
by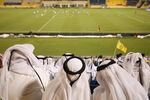 After FIFA president Sepp Blatter's stunning resignation announcement Tuesday, there's been much discussion on the next steps soccer's governing body must take to institute meaningful reform. Beyond questions of the organization's long-term future, however, there's the more immediate concern of what to do with upcoming World Cup tournaments.