An Obamacare Replacement That Works
The trade-offs are preferable to those in the Affordable Care Act.
by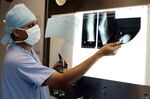 Tom Price, the chairman of the House Budget Committee, is the latest Republican to unveil a conservative health-care plan to replace Obamacare. It's a good plan, although it could be made better -- and it helps to clarify some of the trade-offs involved in health policy.