Give Obesity the Tobacco Treatment
People responded to health warnings, not taxes.
by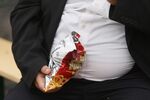 Since 1960, a lot fewer Americans have been dying of tobacco and car accidents, and a lot more have been dying of diseases related to obesity. That is the conclusion of a new study by Harvard economist David Cutler and National Bureau of Economic Research scholar Susan Stewart.